19 September: LANL/LANS/SSD Expresses Grievances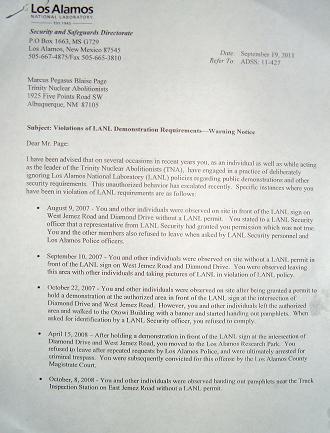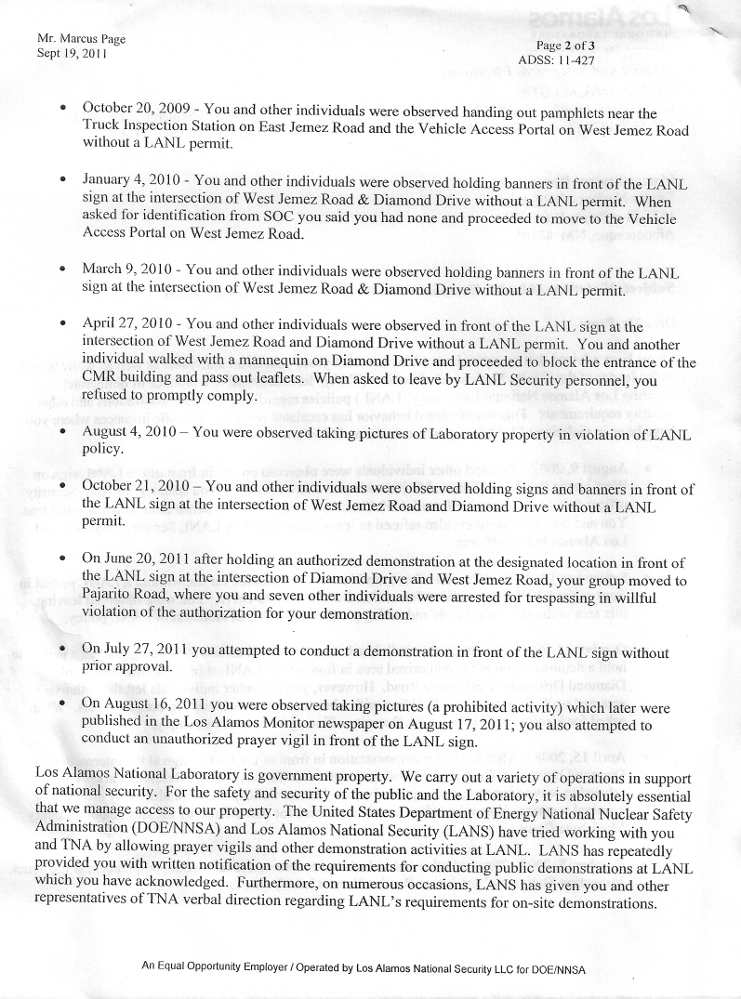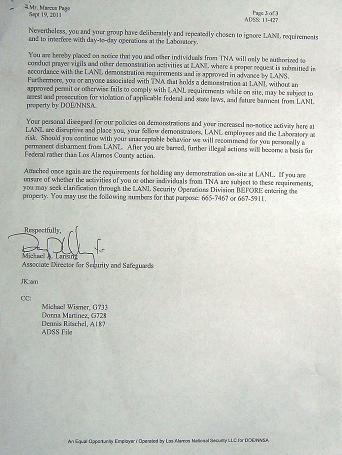 Above are the images of the papers sent to Marcus, preparing the way for federal action against TNA.
click'm to make'm visible enough to read.

9 November 2011: TNA Reminds LANL to Remove Their Log In Order To See Others' Clearly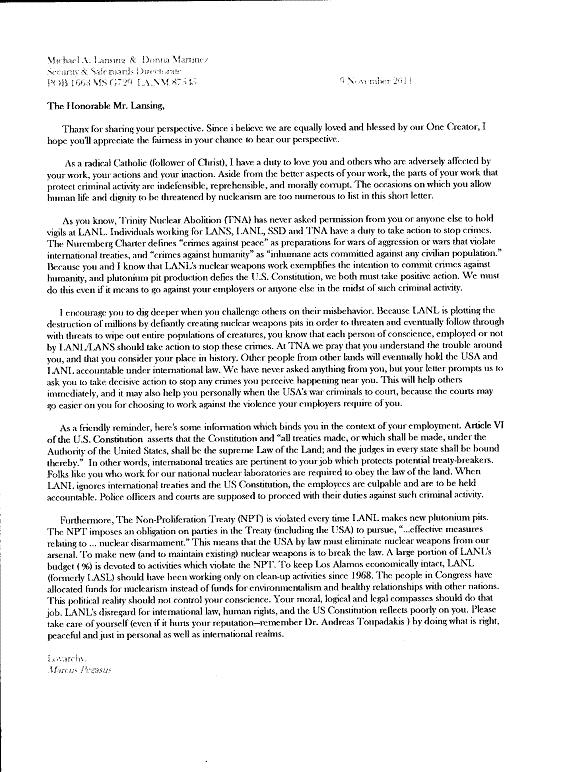 Above is Marc's response sent from TNA to LANL.


The flier TNA distributes to employees and arresting officers.


21 November: TNA Representative meets with a Police Department Representative.
Read TNA's perspective. BELOW ARE EXCERPTS...


A Nice Talk With A Nice Cop
Why Don't U.S. Police Enforce The U.S. Constitution?
November 21st 2011 was the 42nd anniversary of two nuclear bomb explosions detonated underground at the Nevada National Security Site, code-named Piccalilli and Planer, destroying parts of Shoshone territory.
...
The answer to this first question was simple: U.S. territories, states, counties and cities don't have statutes on the books pertaining to international treaties. This means that police officers don't have any codes under which to charge and prosecute international criminals, such as the LANL personnel occupied in plutonium pit production—in direct violation of the Non-Proliferation Treaty of 1970.
...
But what about a cop's conscience when observing an international crime, or aiding international criminals? Don't they know that under Nuremburg, the international community can hold all people involved with LANL accountable if mega-violence occurs?
...
Nonetheless, Deputy Chief Purtyman kindly said he'd ask Chief Torpy about Torpy's feelings on arresting LANL's Director.
...
Only legislation could successfully re-define LANL as a military reservation or government enclave, thereby removing LANL from local police jurisdiction and placing it solely in the responsibility of the federal government.
...
A few months LANL sent TNA a letter threatening to call in federal police the next time TNA steps outside LANL's comfort zone in protesting. We, the LANL Fathers' Day Five, are supposed to not break any laws in LA County for 90 days and pay mandatory court fees of $73 each. We would rather pay our $73 to tribal programs of the Tewa people of the Pueblo of San Ildefonso, since they are the rightful stewards of the lands in which the U.S. has been conducting international crimes for so many decades.
...
Will any police officers recognize their duty enforce safety and security for their people by standing against the nuclear weapons industry which threatens the planet?






12 December: Guadalupe Day
Dr. Martin Luther King, Jr. Knew Nucs Are Bad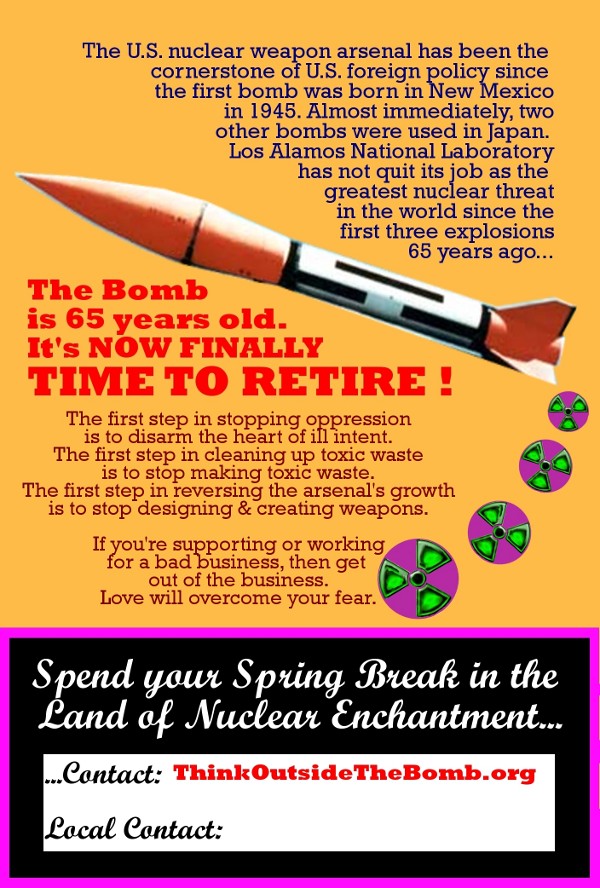 Pictured above is the MGR-1 "Honest John" surface-to-surface nuclear-capable rocket. Also known as the truck-mounted "Artillery Rocket XM31", the rocket was tested at White Sands Missile Range in New Mexico (near the site of the first nuclear blast) in 1951 and deployed by 1954. Between 1960 and 1965, a total of 7,089 "improved" Honest John rockets (not as many nuclear warheads on these variable-payload rockets) were produced and delivered. Spreading to Europe under NATO, the Honest John was declared obsolete in 1982, and by 1985 was finally removed from these countries:
Belgium, France, Greece, Italy, South Korea, The Netherlands, Turkey, and The United Kingdom.


Despite all these treaties, the government of the USA is still in love with her nuclear weapons. Each one needs to be declared obsolete (by moral and ethical standards, rather than by technological standards) and the nuclear age must end peacefully asap.