SEE PRIOR news release
SEE NEXT NEWS release

NEWS RELEASE
1 April 2009




TAX-DAY RESISTER FOUND GUILTY;
SENTENCED BY SPOUSE OF OPPONENT'S EMPLOYEE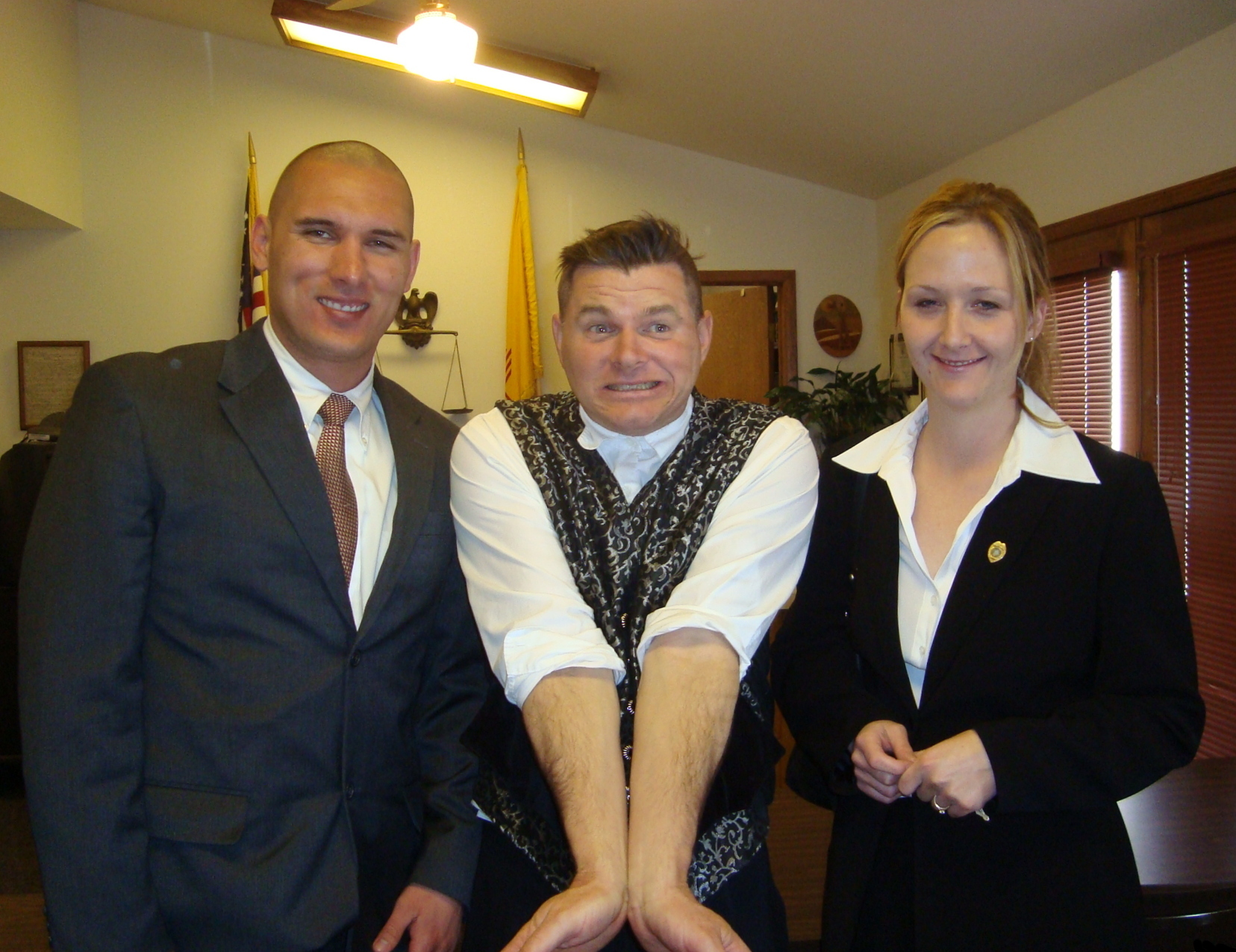 The jury sacrificed a person to honor the god of nuclearism,
yet the judge extended some leniency and stopped short of giving the maximum sentence.


Trinity Nuclear Abolitionists held their 21st demonstration at Los Alamos National Laboratory (LANL) on March 31st 2009, and later that day witnessed a jury choosing a guilty verdict for one of their members. The Abolitionists oppose the mission of LANL, which coincidentally pays the bills for the judge who oversaw the trial. (The judge's spouse works for LANL, and LANL wished for this retrial.) The peace vigils in front of the main entrance sign at the corner of Diamond and West Jemez in Los Alamos, NM have been held every month for over a year. One of the demonstrations in 2008 led to two trials, and the case is now closed as Marcus Page was believed to be guilty of trespass by the jury after a day of testimonies. This decision is exactly what Los Alamos police wanted, after they lost the case last year to a hung jury. Marcus Page immediately received a suspended sentence of 362 days in jail, pending his completion of 180 days of probation and 30 hours of community service. Supporters rushed forward to pay the $67 fine levied as "court costs". Page will be allowed to conduct his community service in Albuquerque, at any bonafide agency not already in Page's circuit of volunteerism.

On April 14, 2008, two members of Trinity Nuclear Abolitionists (TNA) were arrested for praying at LANL in opposition to war taxes. They were part of a group of six who held vigil on the 14th and 15th of April. The two were interrupted during the vigil and jailed for alleged trespass. Page said, "LANL came out as the winner in this case, able to use court to justify their improprieties and disallow free speech on Department of Energy (D.o.E.) land. But we ask again, WHO IS TRESPASSING? LOS ALAMOS disregards the U.S. CONSTITUTION for bomb's sake."

This was the tenth prayer-action since LANL security had abolitionists arrested last April. Nuclear abolitionists come every month to publicly demonstrate against nuclearism, and security personnel threatened to have demonstrators arrested at least five times, but only once did LANL follow through with their threat to stop the vigil. Marcus Page says, "Both sides argued their points well during yesterday's trial, but the jury's quick choice of 'guilty' indicates a broken spirit where democracy, freedom of religion, and international law are trumped by local opinions which favor nuclearism in the USA."

The two members of TNA had been occupying alleged Los Alamos Commerce and Development Corporation land, which houses Los Alamos National Security, LLC (LANS) on the evening of April 14th 2008. LANS manages LANL and is directly involved with the University of California. Because of the confusion of land use jurisdiction, they chose to continue their prayer-action on the grass next door nearer to the fire station. The other defendant, Mike Butler, made a plea bargain in September 2008, and was later exonerated.

TNA believes that loving enemies (rather than developing bombs) brings about the highest quality of security, and therefore calls for nuclear disarmament along with active rebuilding of a peaceful infrastructure in the USA.

LANL is a facility of the DoE. TNA is opposed to the missions of LANL, LANS and the DoE. TNA decries their works of war and "nuclear barbarism" while remaining committed to the goodness of the human employees in Los Alamos, and the potential for employees to free themselves from the shackles of nuclearism.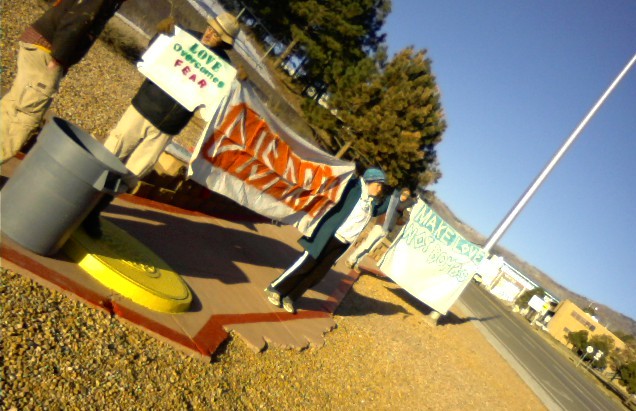 Yesterday's mobilefone broadcast from the vigil site.